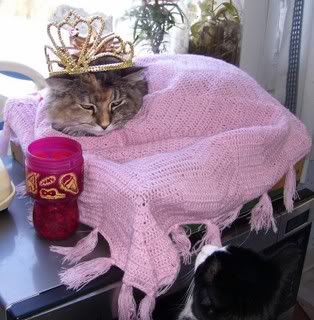 "We are not amused."
This week has been one long round of "What the heck?" and "Gaaaaahhhh!" and "Stop the drama!" This morning really twisted my knickers, and was kind of the last straw. It was a small thing (taking our son for a Scout activity, and no one else showed up - we still don't know if it was a miscommunication about the time, or if everyone else thought someone else was going to show up and pull their weight). I was pretty annoyed, having gotten up early and chivvied our son out the door on a Saturday morning (never a fun thing, kind of like poking a grizzly bear with a stick in February). I fumed my way home, and immediately went back out for a walk around the block to blow off some steam.
This is my motivation and inspiration this month.
So, having the time to bake now instead of later for fellowship hour at church tomorrow, I decided to make biscotti. Still annoyed, I started getting out the ingredients and tossing them into the mixing bowl. I got to the eggs, and used the last four in the carton. As I went to toss the carton, my eye was caught by writing inside the lid. It said, "This is the day which the Lord has made; let us rejoice and be glad in it. Psalms 118:24." SLAP. Nothing like the Word to shine a bright light on my bad attitude. So I'm trying to rejoice and be glad, when this whole week I've wanted to whine, mope, complain, and have a tantrum and meltdown or two (or more) of my own.
Sometimes depression creeps up on you, until you're surrounded.
We've been dealing with some changes here, including starting math tutoring for our son soon, and a new job for my husband. Thankfully the new job is still local, so we don't have to move, and it's a good move up for him, and into something more stable than he was in before. It's been stressful for him to go through this job change, so it's been stressful for me by extension, even though he's handled the process very well indeed.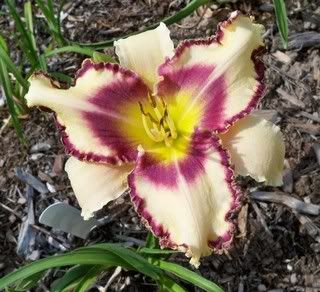 I keep telling myself, manure grows beautiful flowers. . . .
I'm trying to find hope in the small things, and enjoy the many good things in our lives right now. It's been a long, hard spiritual winter for me, and I'm still looking for spring in my heart. God willing, things will start to thaw and grow again soon.