Fringed bleeding hearts (Dicentra eximia), one of my favorite plants.
Next to Christmas, spring is my favorite time to get packages in the mail. Usually I place several orders in January and February, and waiting for late April when the first arrives is a little like waiting for Christmas morning. Today my first package arrived, from Gilbert H. Wild Nurseries. It was a small order, but very nice to receive after a tough week.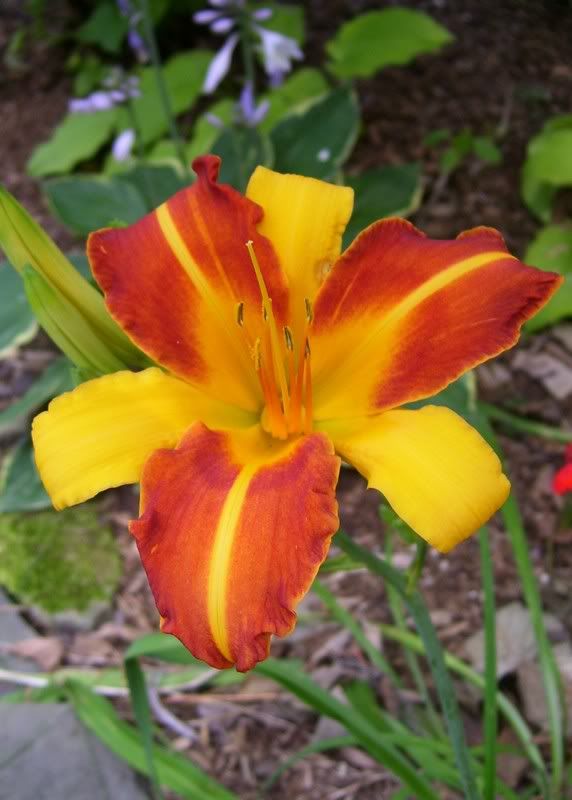 Daylily 'Frans Hals,' a golden oldie. I love its bold coloring.
I had ordered a daylily ('El Desperado,' which is yellow with a mahogany eye and edge - I've wanted that for quite a while), six bulbs of the asiatic lily 'Commander in Chief' (dark orange), and three fernleaf bleeding hearts (Dicentra eximia). They all arrived looking good: a small triple daylily fan (par for the course for Wilds, which sells smaller fans cheap, but they're always healthy), nice healthy bulbs (not large, but solid), and stocky bareroot plants with big crowns. There was also a bonus daylily - 'Frans Hals.' I actually have three of those in a clump already, so I plunked the fourth in a tough spot by the garage - if any daylily can handle that location, it'll be 'Frans Hals,' which is as tough as nails, a real trooper of an oldie. Everything is in the ground now, awaiting the rain later tonight.
Asiatic lily 'Avignon,' which is no longer available -
I'm hoping 'Commander in Chief' is comparable.
I have another, larger order outstanding with Bluestone Perennials. I'll be really excited to get that delivery - if today was the stocking at the foot of the stairs, the Bluestone order is the pile of goodies under the tree. The best thing about THIS holiday is that it's GREEN. Happy Earth Day!