The interesting journey of my family's life seems to be climbing uphill again, thankfully. Safety Guy did well at school with his behavior and homework the first two days of the week. I was so worried when I sent him off to school Monday morning. All day long, while I was subbing a couple hallways away from him, I was praying for him, and hoping that he would have an uneventful day. My husband and I were so intensely relieved to find out at the end of the school day that he'd been okay.
Today the kids had dental appointments. I have to say, I LOVE the dental practice we take them to! We've had mixed experiences with Safety Guy and dentists. His intense gag reflex and anxiety have made it very difficult over the years for him to get even routine cleanings. Thank goodness he has his father's rock-solid teeth, and has never had a cavity! Upper jaw mouthpiece and braces were torture, and in the middle of that process his orthodontist retired, and the new doctor who bought the practice clearly didn't get along with Safety Guy. He had no patience for Safety Guy's anxiety or sensory issues, and appeared to think that our son was just a poorly-behaved child. Our regular dentist was much better with SG, and his hygienist was amazing, but when we moved we had to start over again. Our new dentist was very good and very kind, but Safety Guy was clearly not comfortable with him or his office staff. They gave us a referral to a pediatric dentist/orthodontist for our daughter, and after seeing how great they were with her and with kids and adults with special needs (which they specialize in), we switched SG to their practice. I don't regret it at all, and today was his best dental appointment EVER. Not only did he get a cleaning, but he let them seal his adult molars to prevent future problems. Unbelievable!
(The sticker shock at the cost of the dental adventure for the day wasn't so pleasant, since we have to pay up front and get reimbursed by our insurance. But it was totally worth it to catch SG on a good day and get the whole cleaning and sealing procedure done in one shot.)
And so we're climbing again.
Here's a little taste of summer - I'm getting antsy for color in my garden: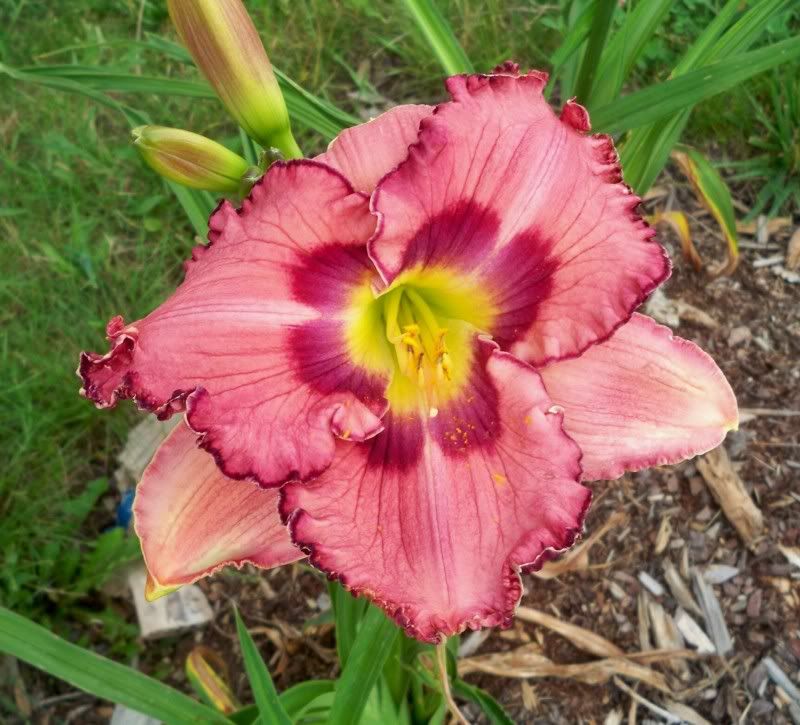 One of my daylily seedlings, blooming for the first time in 2010.
It's actually a little more lavender than this photo shows.
I've been calling it 'Oye Como Va,' for the Santana song.