A cream-colored California poppy, with a tiny visitor.
The time has come, the Walrus said. . . to talk of what to plant in the garden this year, of course.
I've got a list of annuals I like to plant almost every year. Here are some of my favorites that I can't seem to go through a garden year without. Many of these I grow from seed myself by winter sowing, some I direct sow in the spring, and some I buy commercially. I garden in a borderline zone 4/zone 5 climate in Central New York. The photos are mine, unless otherwise credited.
(WS means I winter sow them, DS means I direct sow them, and C means I buy them.)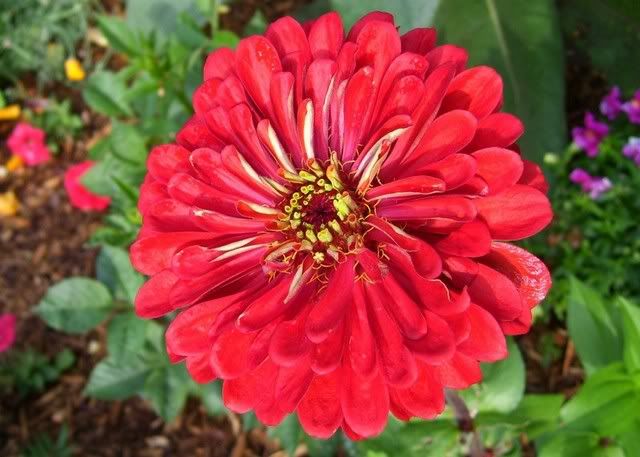 You can't beat tall zinnias for big color.
Zinnias
- I use various tall ones in hot colors, and if I can find it, the dwarf variety 'Profusion Fire' is a perfect edging plant by my front walk. (WS, DS and C)
Sunflowers
- I grow an assortment - they're my husband's favorite flower. (WS and DS)
Cosmos 'Daydream,' a very tall cosmos at about 4 feet, with 4" flowers.
Cosmos
- Simple and easy; I prefer the smaller varieties, although the tall ones make quite a statement planted in a clump if you have room. (WS and DS)
Nasturtium 'Alaska' - a variegated dwarf variety.
Nasturtiums
- I use them to edge the long garden wall in front of the house - the trailing, old-fashioned kinds are wonderful. (DS)
Violas
- They're good filler in shady areas, and I love their cheerful little faces. (WS and C)
Cherry-red calibrachoa on our back deck a couple summers ago.
Calibrachoa
- These are also known as Million Bells, and I like them for the big containers by my front
porch. (C)
Annual portulaca has such joyful flowers, in many colors, some quite bold.
This one is more subdued, but you can see the flash of magenta in the middle.
Portulaca grandiflora
- A cheerful little plant, and tolerant of dry conditions once established. (WS and C)
White heliotrope
- I've never seen this from seed, and as plants only very rarely - but I go out of my way to find it because of its wonderful vanilla scent. (C)
Fuchsia 'Gartenmeister Bonstedt'
- This is a bronze-leaved bushy plant with dark coral-orange tubular flowers - I try to overwinter it indoors each year, with mixed success since my cat Molly likes to eat it. . . . (C)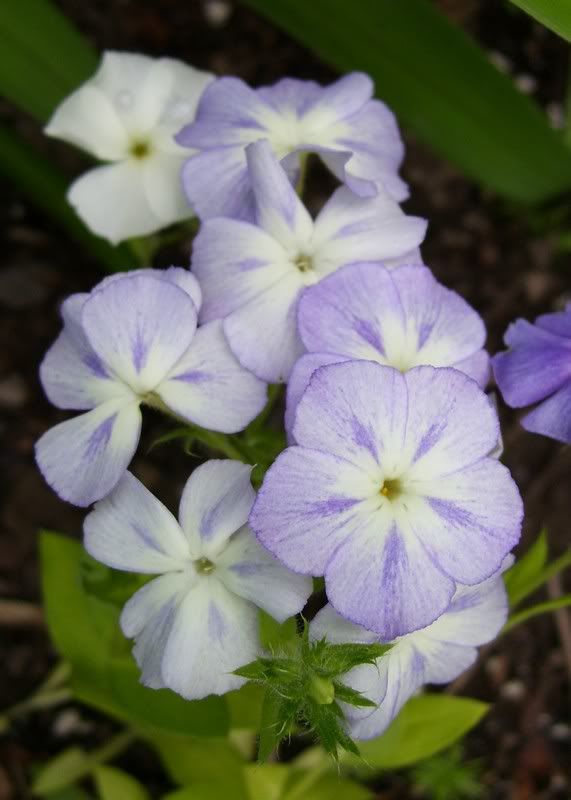 Annual phlox, a very dainty plant with lovely simple flowers.
Annual phlox
- These must be the easiest thing
ever
to winter sow, and they come in a rainbow of colors. (WS)
Salpiglossis, with their bold veins and bright colors,
are wonderful to examine up close.
Salpiglossis
- This is also called "painted tongue," an inelegant name for a glorious flower, which I grew for the first time last year and loved - its flowers are so beautifully patterned in jewel colors and veins. (WS)
A dark russet and gold single variety of marigold - my favorite combination.
Marigolds
- These are indispensable in my yard, and I ring my cherry tree with them every year. I prefer the dark russet and gold ones, solid dark russet, or the solid clear yellow ones - I'm picky. (WS and C)
Nigella 'Miss Jeckyll Blue' - such intricate, unusual blooms.
Nigella damascena
- The variety 'Miss Jeckyll Blue' is wonderfully textured in flower and foliage, and self-sows well. (WS)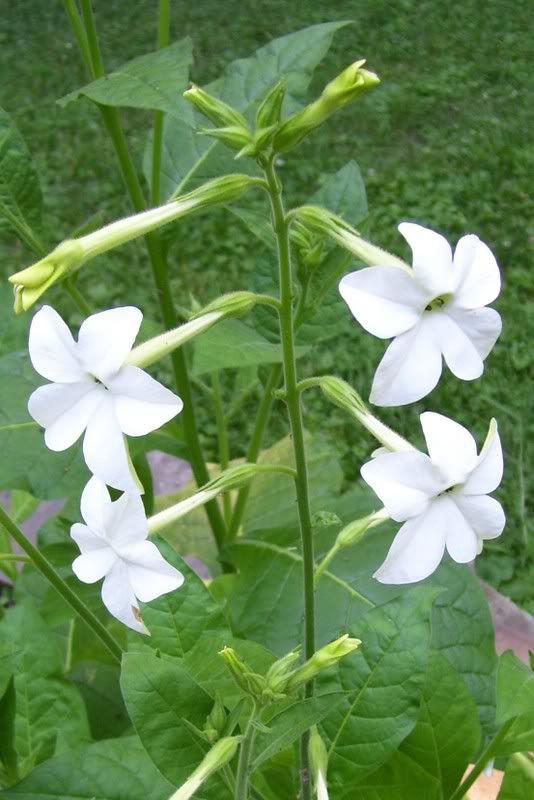 Tall, fragrant nicotiana 'Jasmine' -
it needs staking, but its evening-borne scent is divine.
Nicotiana - I love both the tall, evening-fragrant variety 'Jasmine' and the short, chartreuse-flowered 'Lime Green.' Both will self-sow year to year, but I refresh my stock of them every so often with fresh seed. (WS and DS)
Salvia - Plain old annual Salvia splendens is a marvelous container plant. I love the pure scarlet ones. (C)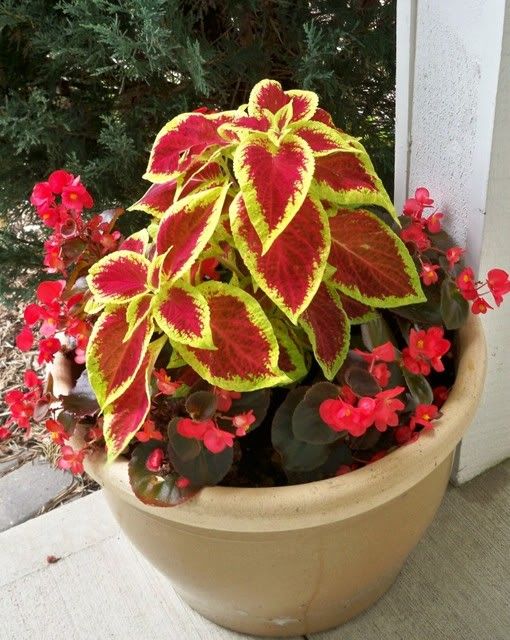 Coleus
- I love their stained-glass colors, and I use them in shady spots, although some are quite sun-tolerant. (C)
Snapdragons
- I like the variety 'Tower White,' which has managed to almost perennialize in my front flower bed, even though it's an annual. It's the toughest annual I've ever grown. (WS)
California poppies
- I love their bold colors and ferny foliage. (WS)
Abelmoschus manihot
- A long name for a simple yellow hollyhock relative. I got my first seed of this from a seed exchange about 8 years ago, but I didn't grow it until about 5 years ago (proving the seed stays viable for a long time). It's gorgeous, an ethereal creamy yellow color with a tiny dark reddish eye. I grow it in a container; it likes to be well-watered, and droops pathetically if it gets even a little dry. It sets seed quite readily, so I've got lots for this year. (WS)
I'm a sucker for a pretty flower, so I usually come home with all sorts of impulse buys and orphans from nurseries even when I have my list of favorites at hand. I try new things every year - never very expensive, but it's nice to try new plants from seed or seedlings. In a day or two I'll make a list of my favorite perennials, then some of my favorite veggies. Gardens are as individual as their gardeners. What do you like to plant where you live?