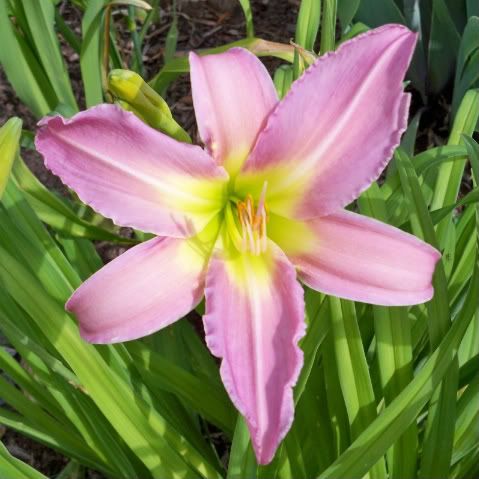 Daylily 'Dallas Star,' an oldie but one of my favorites.
I'd like to run away. Have you ever had a day/week/month like that? I'd like to go away and find some physical and mental space from all the difficulties that are in my life right now. I can't do that, so I distract myself when I can.
One of my seed orders arrived yesterday, and I spent part of the evening winter sowing. I used up the last of my soil, and had

t

o go out and get another bag. This weekend I hope to get more sowing done. One of my seed orders appears to be MIA in the snail mail. I'll just have to reorder online, after I call the company and tell them to disregard any late snail mail order they receive from me. They're a good company; they've never been late like this before. In fact, they're usually amazingly fast at filling orders and getting them out. A third order is somewhere in between - hopefully I'll see those seeds by the end of next week. We'll see.
I made a start sowing tomatoes and zinnias, and celosia - 10 containers worth. I've got a LOT more to go, if my seed orders arrive. More zinnias, more tomatoes, then peppers, and other assorted annuals.
I need to fence my raised veggie boxes this year. There aren't any cats patrolling the neighborhood right now, and the rabbit population has become a real nuisance. I'll have to fence my daylily seedlings, too. And, I'll probably end up digging wire into the ground around the bottom of the shed, where the rotten critters have a burrow. That's a good spring project. I'll end up spending a small fortune on galvanized wire and wooden stakes. But maybe I won't find my veggies nibbled to nubbins if I put in the work early.