We've had a run of lovely weather, so I've had lots of opportunities to get outside and putter in the garden. Yesterday and today brought two packages in the mail, both with plants: daylilies and peonies in one box, gladiolus in the other. The daylilies ('Zagora,' an oldie I loved in our old yard) and the peony ('Mons. Martin Cahuzac,' a dark crimson I've wanted for years) were part of a BOGO sale at Gilbert H. Wild. The glads were a blue/violet variety called 'Vista' from Jung Seed. Nothing expensive, but I'm hopeful for nice blooms from the perennials next year and for many years to come. The glads are more of a quick fix, a cutting garden treat. I don't usually grow many glads, but these were too pretty to pass up.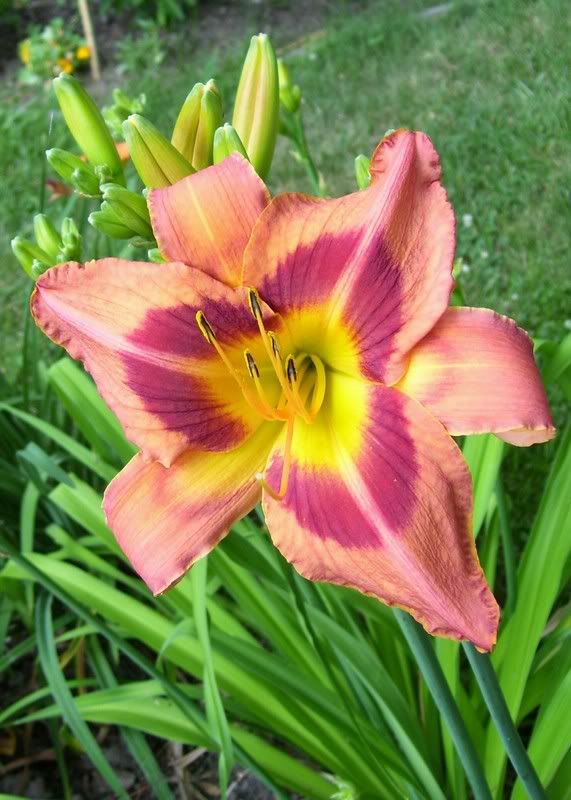 'Zagora' in my old garden - light peachy orange blend
with a dark rose/light burgundy eye.
I also planted most of my porch containers with annuals - cannas, lantana, dianthus, pansies, stock, red salvia, oriental lilies, dahlias, and coleus. I'm having to keep on top of watering the containers since we've had no rain for almost a week, and the temperatures have been in the low 70s during the day.
I also had to cut extra ventilation holes in my winter sown containers. It's warm during the day, and I don't want to cook my seedlings, but it's been in the 40s at night, so it's a bit early to remove the lids entirely. I'm also having to water them daily. I've got lots and lots of seedlings, though, so in a couple weeks I can plant most of them out and free up space on my deck.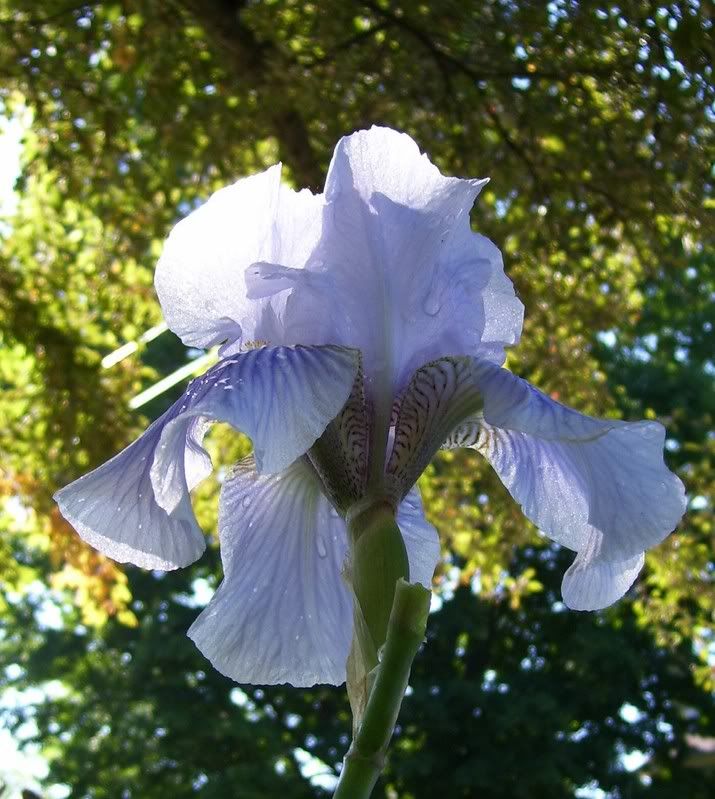 Iris 'Striped Butterfly,' which is so lovely. I hope I can nurse
it back to vigorous health since it's been moved.
Finally, I've been moving some stuff around in the garden. Every year I decide that something needs to move for reasons of aesthetics, or because it's not doing as well as I'd like and I think it would do better elsewhere. Today I moved a peony and planted the new ones in their place. I also moved two irises I don't want to lose that were dwindling away - I'm not sure why they weren't happy now when they were thriving two years ago, but a change of location couldn't hurt them and might salvage them. They're both heirloom varieties, 'Striped Butterfly' and 'Meadowlark.' I made room for the new daylilies and the gladiolus, and pulled a bunch of weeds as I went. I also planted two new pots of irises - 'Batik' and 'Edith Wolford.' I had 'Edith Wolford' years ago at the old house, and I missed it, so when I found plants ready to bloom at a local nursery, I bought one. And, I've wanted to plant 'Batik' for years.
Hope springs eternal, especially in the garden.
Iris 'Edith Wolford' at our old house. So lovely, it's really unmistakable.